Periodontology
The Department of Periodontics encompasses diagnosis and management of gingival and periodontal diseases using surgical and non surgical modalities. Surgical procedures like periodontal flap surgery, regenerative procedures, periodontal plastic surgeries, hard and soft tissue augmentation surgeries and implant surgeries are carried out routinely in the department. The department is equipped with modern surgical equipment like Laser, Peizosurgical unit, Radiovisiography, Iontophoretic unit, Electrocautery unit, implant kit and membrane fixation kit to carry out various advanced periodontal surgical procedures.
The students here are encouraged to hone their skills in patient management, do quality research, keep abreast with the latest advances from the field of Periodontics and take active part in surgical and nonsurgical procedures.The department has evolved even more in the last year to integrate efficient patient handling, effective student learning and quality teaching protocols. The infrastructure has been renovated with new electrical dental chairs with air polishers. The staff constantly dedicates time in problem solving and updating their knowledge by attending workshops and conferences like teacher training and Life First Tobacco cessation.
An excellent example of a fine blend of dedicated faculty, state of the art infrastructure, plethora of clinical work and extensive research activities.
The outpatient department spreads across 11519 sq. ft
Well-planned and structured department with separate designated areas for Undergraduate and Postgraduate work
Individually assigned well-equipped cubicles for post graduate students
Separate surgical area to perform the latest advanced and complex surgeries in field of periodontology and implantology
Successfully running wide array of competent courses of BDS, MDS, Fellowship in Oral Implantology
Specialized in most advanced surgical procedures to attain functional and esthetic excellence in periodontology and Implantology.
Complex hard and soft tissue defects around teeth and implants.
Perioplastic surgical procedures, microsurgeries performed extensively.
Various surgical and non-surgical laser assisted procedures
Conducted workshops for achieving clinical excellence as part of CDE with nationally and internationally acclaimed speakers.
Various scientific publications in sought after specialty journals with high impact factor.
ICMR National institute for research in reproductive and child health NIRRCH, Jehangir Mewanji Street, Parel, Mumbai. 400012
Indian Institute of Technology, Bombay, Mumbai, India
Diya Lab, C/O Kavita Medical, Airoli, Navi Mumbai
Logical Life science
National facility for biopharmaceuticals, GN Khalsa college, Matunga Mumbai
Pure advanced clinical microbiology and molecular laboratory
Ruthvitech solutions Pvt Ltd
FEA solutions, First floor, Mohan Building, Nandanwan, Louis wadi, Thane (W) Mumbai, Maharashtra
Jubliant Pharma and chemical lab Pvt Ltd, Panvel, India
| | | | | |
| --- | --- | --- | --- | --- |
| | | Dr. Vineet Kini | Professor & HOD | Vineet Kini@mgmdchnavimumbai.edu.in |
| | | Dr. Sarika Shetty | Professor | Sarika Shetty@mgmdchnavimumbai.edu.in |
| | | Dr. Sujeet Khiste | Reader | Sujeet Khiste@mgmdchnavimumbai.edu.in |
| | | Dr. Bharat Gupta | Reader | Bharat Gupta@mgmdchnavimumbai.edu.in |
| | | Dr. Manjeet Mapara | Lecturer | Manjeet Mapara@mgmdchnavimumbai.edu.in |
| | | Dr. Ankita Deshmukh | Lecturer | Ankita Deshmukh@mgmdchnavimumbai.edu.in |
| | | Dr. Trupti Naykodi | Lecturer | Trupti Naykodi@mgmdchnavimumbai.edu.in |
| | | Dr. Agraja Patil | Lecturer | Agraja Patil@mgmdchnavimumbai.edu.in |
Facilities in the Department:
Infrastructure - UG clinic, PG clinic, Minor OT, Library, Seminar room
Procedures - Laser surgery, Piezosurgery, Implant surgery
Intra-oral photos - Hard tissue augmentation, Soft tissue augmentation, Anterior Aesthetic CLP, Depigmentation, Full mouth implant supported prosthesis, RVG of bone grafting procedure
Department 360 degrees view
Department library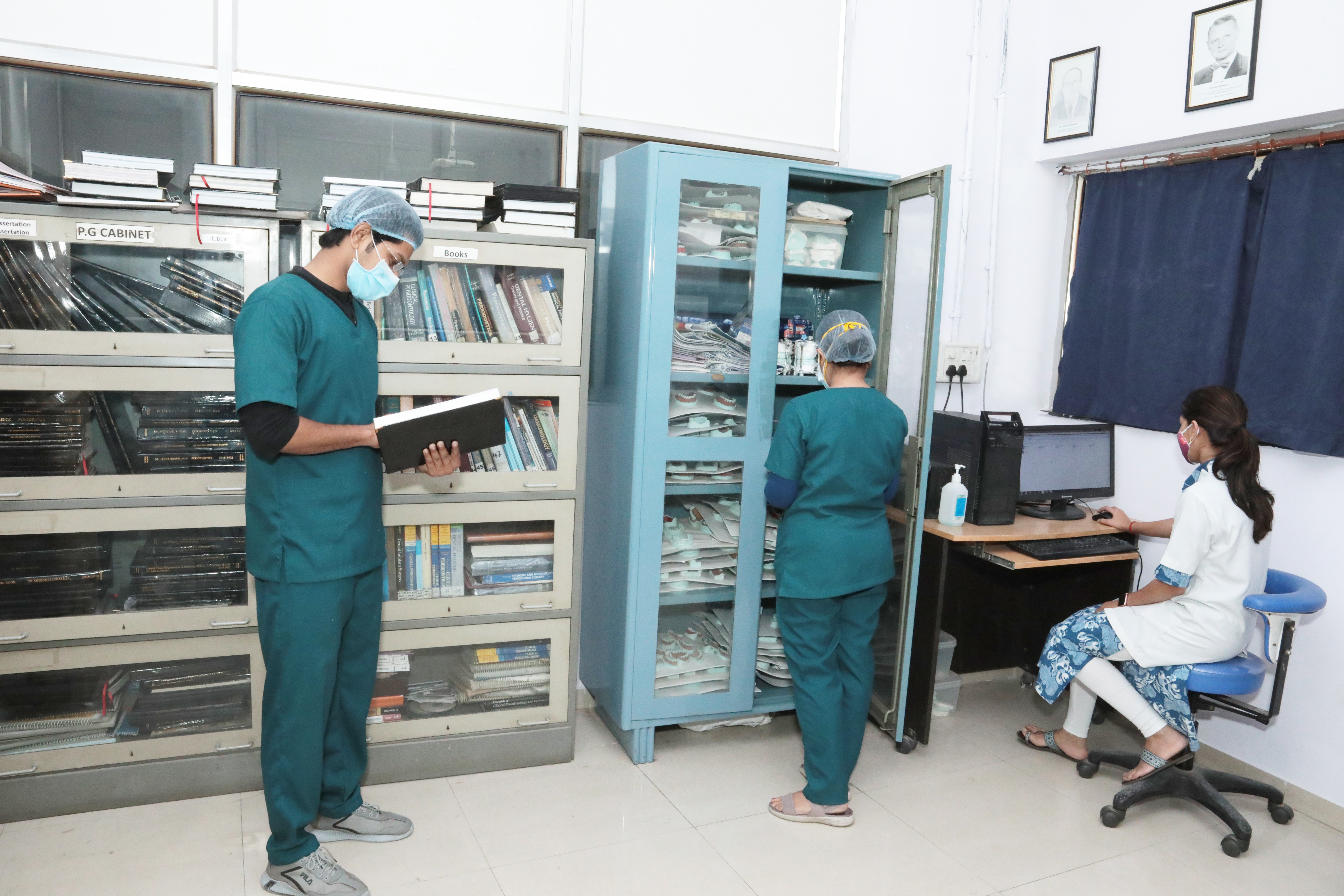 RVG discussion on a computer
| | |
| --- | --- |
| | Partial Extraction Therapy Techniques – A Review. Lambert Academic Publishing. August 2020. |
| | Antimicrobial local drug delivery – a non-surgical approach to make gums and teeth healthy – Lambert Academic Publication 2020. ISBN 978-620-0-29959-8 |
| | Basics of maxillary sinus augmentation. Lambert Academic Publishing 2020. ISBN978-3-659- 94216-7 |
| | Drug Induced Gingival Overgrowth. Lambert Publications |
| | Factors Affecting Prognosis of Dental Implants.LambertPublications |
| | Mineral Trioxide Aggregrate- the New strength of Dental Cements.LambertAcademicPublishing.BOOK |
| | Bacterial complexes in periodontal diseases. Lambert Academic Publishing. |
| | Classification of PeriodontalDisease–Lambert Academic Publishing |
| | RubberDam Isolation and Newer Methods- Lambert Academic Publishing |
| | RubberDam Isolation and Newer Methods- Lambert Academic Publishing |
| | Development of periodontium. Lambert publications |