Prosthodontics and Crown Bridge
Profile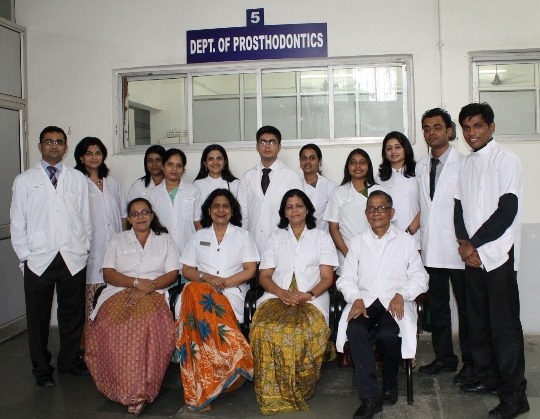 .
Prothodontics is the dental speciality respondsible for diagnosis treatment planning, rehabhilitation and maintainance of patients with missing teeth and its associated structures using biocompatible substitites.
Department of Prosthodontics trains and educates the students to be competent in treating and managing patients who require comprehensive replacement of missing teeth and Maxillofacial structures. The teaching programme includes extensive clinical and laboratory training of students in the areas of fixed and removable partial dentures, complete dentures, maxillofacial and implant Prosthesis.
The Department caters to the needs of patients requiring replacement of teeth by fixed Prosthesis, removable Prosthesis and Implant Prosthesis. Special care is taken to plan the treatment by interacting with other specialities on a regular basis. No charges are levied in treatment for camp Patients, However a nominal charges are fixed for regular patients.
Complete Denture:
Cast Partial Denture:
Implants:
Full Mouth Rehabilitation:
Smile Designing:
Occular Prosthesis:
Cleft And Palate:
Management of Hemimandibulectomy with Guide Flange Prosthesis:
Extension activities:
Removable prosthesis treatment Camp organized for completely and partial edentulous patient
Minec implant course for interns and post graduate students
To conduct Continuing dental education programs and conferences for keeping the staff and students abreast with latest knowledge